Wondering What's Going On With Mortgage Rates?

If you've been thinking of buying a home, you may have been watching what's happened with mortgage rates over the past year. It's true they've risen dramatically, but where will they go from here, especially as the market continues to slow?
As you think about your homeownership goals and decide if now's the time to make a move, the best place to turn to for that information is the professionals. Here's a summary of the latest mortgage rate forecasts from housing market experts.
Experts Project Mortgage Rates Will Stabilize

While mortgage rates continue to fluctuate due to ongoing inflationary pressures and economic uncertainty, experts project they'll start to stabilize in the months ahead. According to the latest projections, mortgage rates are expected to hover in the low to mid 5% range initially, and then potentially dip into the high 4% range by later next year (see chart below):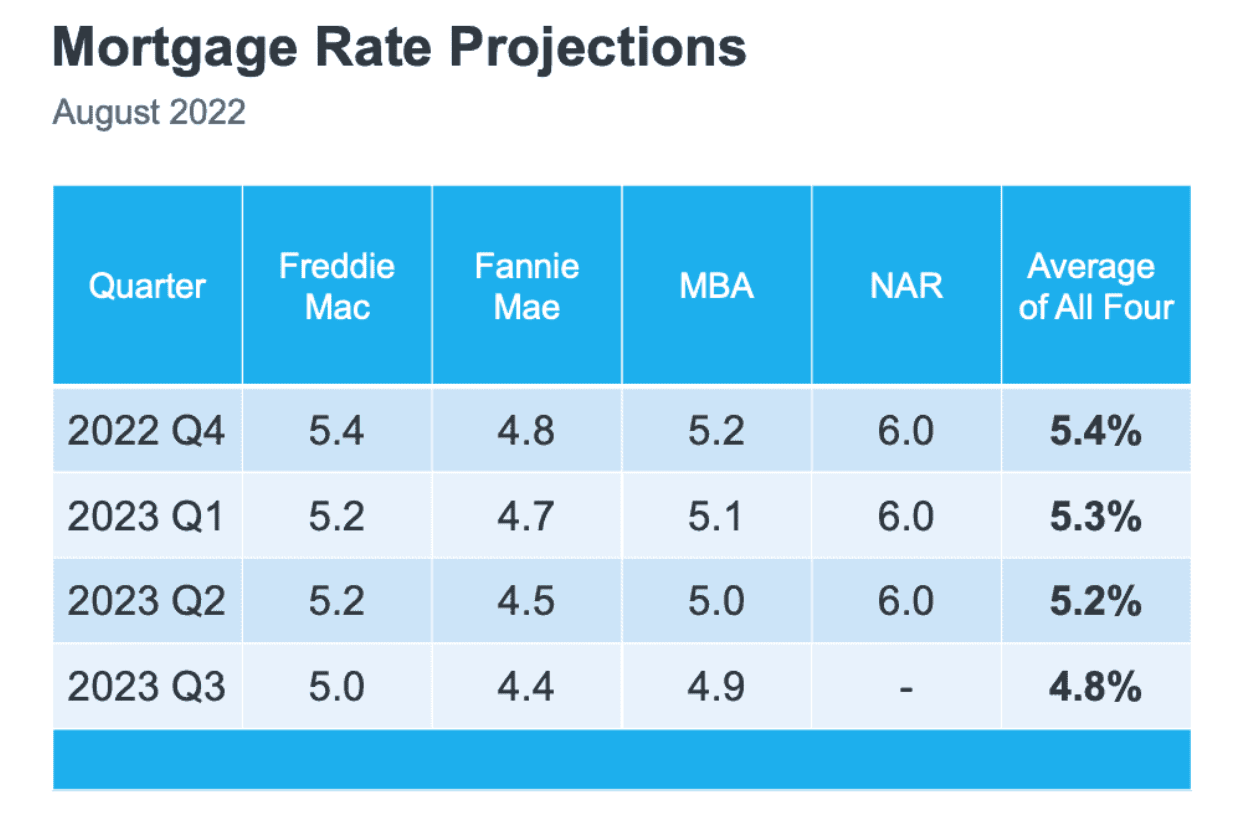 Mortgage rates have soared this year largely in response to inflation. The Federal Reserve has already raised rates four times, often by as much as 100 or 75 basis points. The Fed will likely raise rates at least one more time before the year's end. What comes after that, however, is largely a question mark.
Should inflation ease, it's likely the Fed will step off the gas, which could result in mortgage rates falling back down. Last month's consumer price index (CPI) report showed no month-over-month price increase, leading some economists to conclude inflation is easing even faster than expected.
What This Means For Buyers…

As we head into Q4, news that rates will stabilize should bring buyers some welcome relief (and a bit more certainty about what the future holds)!
If you're thinking of buying, you may be familiar with the phrase, "Date the rate, marry the home." What this means is if you are financially able to make a mortgage payment, and have found a home you LOVE, don't put off buying because rates are high. You can always refinance if rates drop, but your dream home may not still be available.
Additionally, there are adjustable mortgage rate options that are becoming more popular. These can often knock a percentage point off your rate. While there is some additional risk associated with these types of loans, they are a good option for some — contact our team for a referral to a lender who can help you decide if this is a good option for you!
An adjustable-rate mortgage (ARM) is a home loan with a variable interest rate. With an ARM, the initial interest rate is fixed for a period of time. After that, the interest rate applied on the outstanding balance resets periodically, at yearly or even monthly intervals.
Bottom Line

Whether you're looking to buy your first home, move up to a larger home, or even downsize, you need to know what's happening in the housing market so you can make the most informed decision possible. Reach out to the LaMon Team to discuss your goals and determine the best plan for your move.